Seit kurzer Zeit ist mit dem Scandinavian Journal of Comic Art ein weiteres akademisches Fachmagazin auf dem Markt, dass sich dezidiert der Comicforschung verschrieben hat.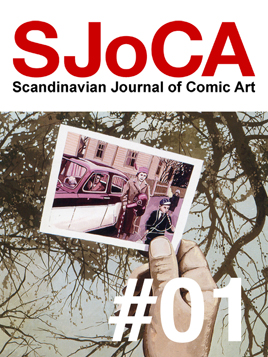 Das Scandinavian Journal of Comic Art geht in seinen Grundzügen auf eine Tagung im Frühjahr 2009 in Växjö, Schweden, zurück (die Tagungsseite von damals ist leider nicht mehr greifbar). Damals wurde beschlossen, mit den Tagungsbeiträgen den Grundstock für ein neues englischsprachiges Journal zu legen. Die zeitliche Differenz wird mit dazu beigetragen haben, dass von den damiligen Beiträgen nunmehr fast gar keine mehr aufgenommen wurden. Umso mehr ist es den Herausgebern Ralf Kauranen, Rikke Platz Cortsen und Fredrik Strömberg anzurechnen, dass sie das Projekt doch noch auf den Weg gebracht haben. Entstanden ist eine frei verfügbare Zeitschrift, die durch double blind review ein hohes Maß an Professionalität verspricht. Ihr mission goal machen die Herausgeber in ihrem Vorwort deutlich:
The scope of the journal is interdisciplinary, encouraging a wide range of theoretical and methodological perspectives. The language of the journal is English. Although global in its scope, publishing high quality research regardless of national or regional boundaries, the journal is rooted in the Nordic countries (Denmark, Finland, Iceland, Norway and Sweden) and has the ambition to reflect and incite discussion in the field of comics studies in these countries.
Zur Homepage des Magazins gelangen Sie hier. Zum Inhaltsverzeichnis der ersten Ausgabe geht's hier.
(Felix Giesa)